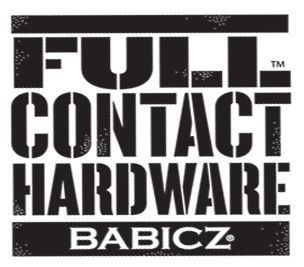 BABICZ FCH RICKENBACKER® BASS BRIDGE
Includes FREE SHIPPING and one FREE T-Shirt for orders within
the continental United States.
$29.00 S&H will be billed separately on orders outside continental U.S.
We accept most major credit cards or PayPal...with secure shopping!
FCH RIC CHROME: SOLD OUT...SOLD OUT.
Expected December 2021
We are terribly sorry for the delay in getting the FCHRICK4 Rickenbacker bass bridges out to everybody. As we mentioned previously, we were overwhelmed by the response to this new product, and clearly underestimated the demand on the initial release. We did bump up the production numbers for the next production runs, but unfortunately we experienced a delay in these production runs at our factory and now do not expect to have these ready for shipping until December. We understand your frustration and realize you had placed orders weeks ago, but unfortunately there is nothing we can do to accelerate the process.

If you would prefer to have your purchase refunded we will obviously do so. We stopped taking orders on this product and although we have over sixty additional inquiries we are not taking advance orders. If you have already placed an order and paid you will be the very first to be shipped via USPS Priority service the moment this run is packed and ready. After that it will be first come-first served.


Thank you for considering the Babicz Full Contact Hardware® bridge for the *Rickenbacker® 4001-3 bass, designed by Jeff Babicz. The FCH-RIC bridge offers many benefits; such as individual string height adjustments, a wide intonation range, easy (and fully reversible) drop-in installation...all while maintaining the original RIC bridge "look" and features. This double locking bridge also adds incredible tonal stability with the innovative eCAM full contact design, U.S. Patent No. 8,525,008. Weight: 3.17 oz.
*Rickenbacker® is a registered trademark of Rickenbacker International Corporation. Babicz is not affiliated with Rickenbacker International Corporation.
*Note 1: Does not include the original RICK bridge/tail frame.
*Note 2: The Babicz FCH Bridge for RICK does not address "bridge lift", found on some 4001 series basses. For optimum performance, a slight lift is acceptable, however if your bridge lift is severe then you may want to consider purchasing a new one from
AllPARTS