BABICZ FCH 5-String BASS BRIDGE, Z-SERIES
5-HOLE MOUNT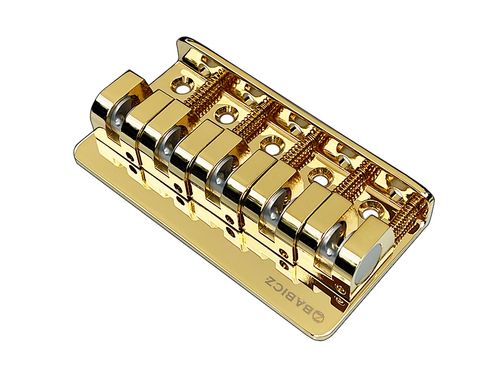 Babicz FCH 5-String Z-Series bass bridge in gold finish, above
Includes FREE SHIPPING and one FREE T-Shirt for orders within
the continental United States.
$29.00 S&H will be billed separately on orders outside continental U.S.
We accept most major credit cards or PayPal...with secure online shopping!
FCH 5 Z-SERIES: CHROME, BLACK, GOLD, NICKEL...SOLD OUT. Expected late September
Consider the patented Babicz FCH 5-String Bass bridge for your existing bass, or add it to your next custom build! The Z-Series mono locking eCAM saddle offers Full Contact to the body of your instrument, offering unmatched tonality and sustain. A wide intonation adjustment range, and individual string height adjustments are a breeze...and stay put when locked! Top-load at the back of the plate for easy string installs. *String Lefty or Righty*
Available in four in four finishes: Chrome, Gold, Black, and Nickel
-Click below for a detailed spec sheet view-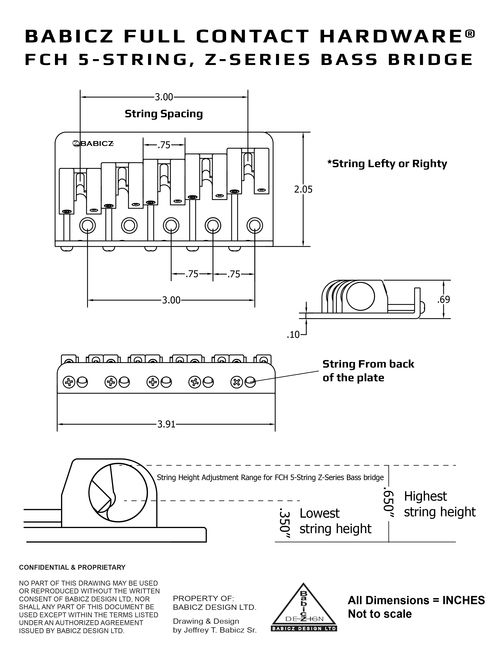 Features:
Z-Series mono saddle lock screw design
Patented eCAM saddle technology
5-hole mount pattern
Top mount- string from the back of the plate
.75" Fender string spacing
Steel Babicz logo plate
String Lefty or Righty
Weight: 7.8 oz.